The Greatest West Borough
Children

The Greatest West Borough
The week involved a lot of exciting, and some new, activities and learning including dance, drama, film-making, art, performing and much more! Below are just some of the activities we took part in!
This Is Me
We wrote poems all about ourselves and discussed what we would like to be when we are grown up.
Mask Making
After learning all about them, we made our own Venetian masks. We chose colours and decorations to express our personality.
To make the masks we had a cardboard cut out and we used tissue paper and feathers and jewels to decorate.
Circus Performing
In groups we role played performing circus routines. We then presented our performances to the class.
Flash Mob Dance
At the beginning of the week we learnt a dance to the song 'This Is Me' from the Greatest Showman. We then spent everyday practising ready for the flash mob dance on Thursday! We worked really hard and it was fantastic when the whole school came together to perform.
David Hockney
On Friday we looked at a piece of Art by a famous Artist. It was a painting by the artist David Hockney. We then worked as a team to paint our own West Borough painting taking inspiration from Hockney.
Arty Party
Some children in our class helped to create a huge sculpture which, now finished, is outside Mrs Crittenden's office. It represents our school and our core values.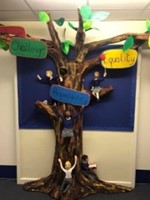 Music with Mr Abbott
We were lucky enough to have Mr Abbott came into our Classroom with his guitar.  He sang Nursery rhymes and we all joined in.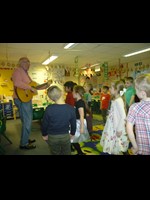 Be kind, be safe, be responsible and embrace challenge